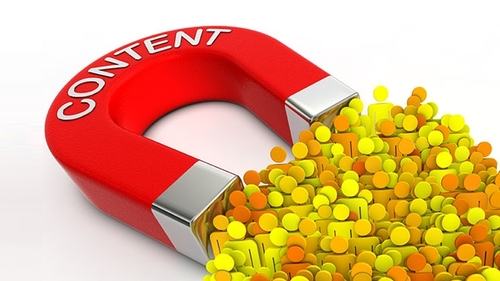 If you've been anywhere near the internet in the last few years, you've heard the term "content marketing." It's become a cottage industry all its own, like social media before it, with marketing experts from every corner of the web preaching its benefits.
But with so much information available on the topic, and so many different approaches, it's easy to feel overwhelmed. What, exactly, is content marketing? And does it make sense for your business?
First, A Simple Definition of Content Marketing
Content marketing means: marketing your business products and services using content your customers find valuable. Easy, right?
This isn't anything new, really. Businesses have been using content like free reports, newsletters and white papers to market their businesses for years. Only now, most of it lives online.
Two common types of content marketing are:
Branded Content – or content that's delivered by your company, such as a company blog, YouTube videos, email newsletters, white papers, etc.
Sponsored Content – sometimes called "native advertising," is a modern update on the printed advertorial. You create content to suit the audience of a particular website (like the New York Times, or Buzzfeed, or MassLive). These stories live alongside editorial content, and include a link to the advertiser who sponsored the post.
So what makes valuable content? It has to be relevant to your audience's concerns or interests; otherwise it won't hold their attention. It should strive to inform or entertain. While it should relate to your business, the end goal isn't to sell something right away. It's more about providing a useful resource for your customers – added value above and beyond your products or services.
Now, is it right for you?
Question 1: Do you need to educate customers?
Here are a few reasons you may need to teach customers more about your product, service or industry:
You've brought something new to the market
You've upgraded an old product or service
Customers have questions about using your product or service
Customers don't clearly understand its benefits
You can help them use it more effectively
There's a common misconception about what you do
Content marketing can effectively answer all of these questions, and more, while providing many opportunities to draw customers deeper into your sales process.
Question 2: Do you need to build your brand?
Content marketing does this in a few ways:
Awareness – useful content creates awareness – search engines love it, and social media lives on it
Authority – content builds trust by positioning you as an authority or expert in your field
Engagement – valuable content keeps customers engaged and coming back for more
Loyalty – the more valuable the content you produce, the greater customer loyalty you'll enjoy
Question 3: Do you have the resources to develop content?
Most readers (and search engines) expect fresh, relevant content on a regular basis. However, many marketers lack the time and resources to consistently create compelling content readers will love.
Do you realistically have time to blog every day, or even every week? Do you have a writer on staff that can craft white papers and sponsored content? Altogether, content marketing takes a lot of effort and persistence to be successful.
Luckily, you don't have to go it alone. MassLive can help research and develop content that fits your brand, audience and goals. By outsourcing content creation, you reap the benefits while staying focused on doing what you do best – running your business.
By MassLive Marketing Staff