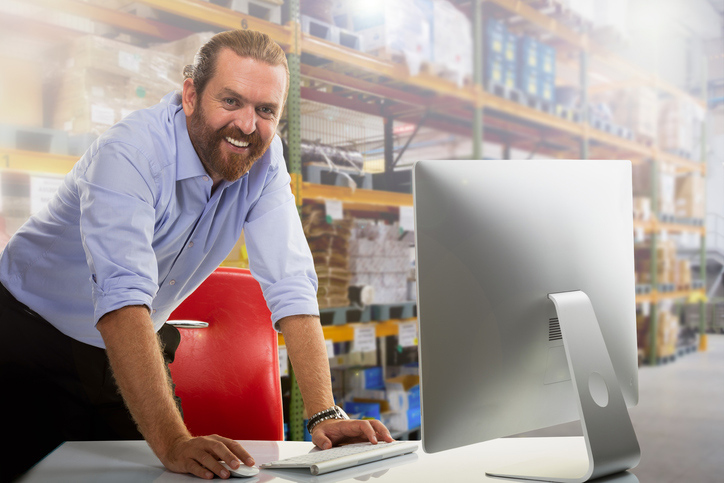 Through working with manufacturing companies, MassLive Media has discovered three main challenges that are causing them to miss out on customers and revenue:
Generating website traffic and leads
Converting leads into customers
Creating relevant, engaging content
If your company is like many, you're just not able to focus on marketing.  You don't have the budget or the time.  Maybe you don't know where to start.  Maybe your company just "doesn't do marketing"… or any marketing you have done is an afterthought, sporadic, and traditional (tradeshows, a print ad here or there in your boss's favorite trade publication, emails to your current customers, and of course, the beloved cold call – *insert moan*)  You don't know if it's working.  But "it's the way we've always done it.
You're not alone.
The way your potential customers want to learn about you has changed.  Today, 60% of engineers' buying process happens online before they even reach out to your company1, and more than 80% of companies have millennials in B2B purchasing roles2 (yes, I mean folks born in the 80s and 90s – gasp!)  They – or their even younger interns – are scouring the internet for solutions.  And they want them fast.  So, how do you reach them in a way that's authentic, targeted, measurable, and cost-efficient?  Enter digital marketing.
Here are five ways manufacturing companies are using digital marketing to find new customers right now.
1. Voice of Customer (VoC) survey
"Whoever knows their customer best, wins" has never been more relevant.  VoC is about learning about your customers to drive your marketing strategy, guide your customer relationship strategies, and provide competitive insight.  A VoC survey customized for your company can uncover the reasons your customers do business with you (or stopped); whether they have purchased from anyone else in recent months and why; and even what they want from tradeshows.
I know what you're thinking: "But I already talk to my customers all the time."  Consider this:  You're in the market to buy a new home.  You're at the open house and the owner is present (wonderful).  She asks you what you think of the place and you tell her "It's beautiful!" – but in reality you're thinking of all the things you would change (carpet in the bathroom…really?)  VoC works the same way.  People are more comfortable and open when talking confidentially with a third-party you've partnered with.
2. Content
92% of engineers are more likely to do business with companies that regularly produce new and current content3, and 47% of B2B buyers view three to five pieces of content before engaging with a sales rep4.  What kind of content?  Anything from whitepapers to infographics, blog posts, podcasts, videos, case studies, and reality print materials.  Content creates brand awareness, educates your prospects, builds credibility, develops relationships, drives traffic to your website, helps with your SEO, produces leads, and provides your sales people with tools to attract, engage and convert leads into customers.
If it's so important, why isn't everyone doing it?  It's hard.  And it takes time.  The right marketing partner can help ease the burden by mapping out a content strategy tailored just for you, providing experienced technical writers, and sprinkling in important keywords throughout to help your content get found.
3. Targeted email
Reach outside your database and connect with brand new prospects using targeted email.  First, identify your target audience.  For instance, design and product engineers in the food processing, military, and pharmaceutical sectors, on the east coast, with more than 100 employees and at least $30 million in annual revenue.  With an email marketing partner, identify the appropriate NCAIS or SIC codes, refine the list with the parameters you've selected, craft compelling messaging and creative, and deliver your message directly to their inboxes.
4. Geofencing
Also referred to as latitude-longitude targeting.  First, you draw a virtual circle around a location that is important to you, like a tradeshow or your dream customers' headquarters. Next, you capture the mobile IDs of anyone who enters the circle. Finally, you deliver display on their mobile devices.  Maybe it's messaging on why they absolutely need to visit your booth, invaluable content that positions you as the authority in your space, or information on your newest product launch.  You've now built a custom audience you can continue to talk to weeks and months down the road.  Now that's targeted.
5. Search Engine Marketing
Also called SEM, pay per click, paid search, or Google AdWords.  If you're not on page one of Google, you're irrelevant.  SEM gets you on page one with the flip of a switch.  Sure, you want to come up organically when someone searches for your product or services, but that takes time.  Your content strategy will help you get there.  In the meantime, come up with a list of keywords you want to be found for, and rise to the top of the page through SEM.
And don't forget about Bing.  While Google accounts for the majority of search, much of corporate America uses Bing because Internet Explorer is installed on their machine by default…and IT has their browsers on lock-down or users just don't think to change it.  Because people often don't think of Bing first, there is less competition among advertisers for the same terms and a lower cost per click.  You can even include a special call tracking number in your SEM ad, a phone number created just for you which dials through to your already existing number when someone clicks to call – allowing you to track the number of phone calls which come through from your ad.
It all sounds great, but how am I supposed to work it into my budget?
Baby steps.  Marketing strategies in the manufacturing sector are becoming more defined, and as a result, marketing budgets are growing.  In fact, manufacturing companies on average increased their annual marketing investment nearly 400% between 2010 and 20174.  But that doesn't mean you have to jump in right away both feet to the fire.  According to The CMO Survey August 2017, manufacturing companies in the U.S. invested, on average, 3.2% of their annual revenue into marketing, but even a fraction of that can get you in the game.
Start slowly, measure it, make adjustments, and scale accordingly.  Discover how MassLive Media's digital solutions can help.
By MassLive Media Marketing Staff
Sources:
Smart Marketing for Engineers Global 2017 Survey
Smart Marketing for Engineers Global 2017 Survey
Demand Gen Report, 2016
Schonfeld & Associates