Why email marketing is an essential component of digital marketing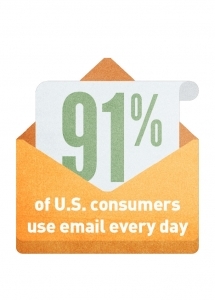 With the explosion of social media and mobile apps in recent years, email can seem almost quaint. But it's still one of the most effective digital marketing channels. In fact, 91% of U.S. consumers use email every day [1]. A recent analysis by McKinsey & Company found that email generates 40 times the number of new customers as Facebook and Twitter combined.[2]
Email can serve as the mortar that holds all the parts of a digital marketing strategy together. It can forge stronger connections with website visitors, social media followers, and past customers. "You can send a message directly to your audience's device to let them know what's going on 'right now.' It's timely and direct," says Michael Burnham, Digital Sales Manager at MassLive.
So how can you tap this important resource? Here's what you need to know.
Building your list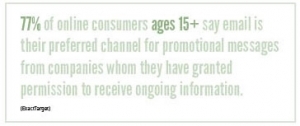 Start by inviting people to join your email list by offering something of value. This could include special offers for subscribers or access to entertaining content. Put subscription links on your most popular Web pages and invite Facebook fans and Twitter followers to sign up. Brick-and-mortar businesses can keep email sign-up forms at the checkout counter and offer a coupon in return for signing up.
Keep the sign-up process as simple as possible. In many cases, all you really need is a name and an email address.
Engaging your subscribers
Now that you have a list, you can start building relationships with those subscribers.
Consider starting an email newsletter that goes out weekly or monthly and includes a variety of content, such as how-to articles, updates about your business or important industry news. Besides text, email newsletters can include images, video and audio, and are a great way introduce new products or services to an audience that's already shown interest in your business.
Next, you can send occasional sales promotions along with your regular newsletter. For example, a retailer might send a "deal of the week," while a company marketing to business customers can send emails offering white papers or invitations to events that help establish authority and generate leads for the sales team.
It's important to establish a schedule for your email promotions and stick to it: Too many email offers and you run the risk of turning customers off; too few and they may forget about you. The ideal schedule ultimately will depend on the nature of your business and your customers' preferences, but 86% of adults said they would like to receive email promotions at least monthly, according to marketing research firm MarketingSherpa[3].
Measuring results
To get serious about email marketing, you need to use an email service provider (ESP), such as WhatCounts, MailChimp, Exact Target or Constant Contact. ESPs provide the platform to manage your subscriber list, automate your sending schedule, and—most importantly—collect data on the emails you send, such as how many subscribers opened the email or clicked on a link in the message. This data can help you determine which types of offers or newsletters are most popular with your audience, so you can target your emails even more effectively.
Note that the CAN-SPAM Act of 2003 outlines a series of rules that govern email marketing—such as requiring businesses to seek permission before sending marketing messages, and to make it easy for subscribers to opt-out of those messages. A good ESP or a digital marketing consultant can help you manage the requirements of the law.
But those rules help protect one of the big advantages of email marketing. You're reaching out to customers who have asked to hear from your company. Nurturing that interest can take time, but the payoff can be enormous. "Email is great for specials, sales, events or updates. It can contribute to creating a lasting relationship with your customer base," says Burnham.
[1] ExactTarget 2012 Channel Preference Survey
[2] McKinsey and Company, Why marketers should keep sending you e-mails
[3] MarketingSherpa, "Email Research Chart: How often customers want to receive promotional emails."