What will the long term affects of the Coronavirus be on the cannabis industry? Advance 360 Cannabis Insider Live Online presented by Duane Morris LLP and hosted by NJ Cannabis Insider editor Justin Zaremba, is a highly focused, information-driven talk designed to engage audiences about the most pressing concerns and challenges communities face as the state and federal government navigate the Covid-19 crisis.
Join us on May 13th, 1PM EST/ 10AM PST for our webinar.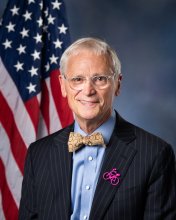 Keynote Speaker
EARL BLUMENAUER
UNITED STATES CONGRESSMAN
Rep. Earl Blumenauer represents Oregon's third congressional district and is a leading advocate for cannabis policy reform in the House of Representatives and the founder and co-chair of the Congressional Cannabis Caucus. Reps. Earl Blumenauer (D-OR) and Ed Perlmutter (D-CO) just introduced the Emergency Cannabis Small Business Health and Safety Act in the House of Representatives. This critical legislation would allow legal cannabis businesses to access disaster relief loans and other programs available during the COVID-19 crisis.