The field of marketing is constantly evolving. With this being said, it may be time to say goodbye to the logic surrounding the familiar marketing funnel. Marketers are encouraged to ditch the one-way rationale that placed customers themselves as less important than acquiring them. The funnel focuses on creating a customer and forgetting about them until it is time for them to buy again. Now, more than ever, the customer has a great deal of power throughout the purchasing journey. It is crucial to keep them satisfied and engaged. A customer in the flywheel model will feel catered to and, subsequently, actively advocate for your brand.
How the Flywheel Works
The overarching ideology behind the marketing flywheel is that a customer can help your business grow when they become the center of your marketing strategy. Hubspot, the leader of this innovative new model claims that, "with the flywheel, you use the momentum of your happy customers to drive referrals and repeat sales [so that] your business keeps spinning". Momentum is lost at the end of the marketing funnel, but the flywheel keeps it going.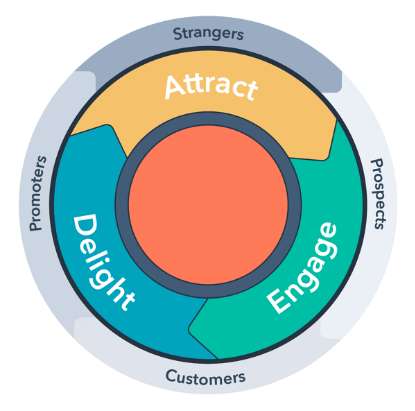 The flywheel sees customers as a way to maintain velocity, but the funnel simply sees customers as an output of a process. Furthermore, salespeople begin to adapt the mentality that the job is done as soon as they secure a customer. It is key to focus on keeping the customer in the center—and the flywheel clearly depicts this. The ongoing cycle of feedback, improving, securing repeat customers and word-of-mouth referrals is what ensures its success—you just have to tweak it to your specific business to reduce any friction that keeps the wheel from spinning.
Your Business' Flywheel
To guarantee your company has an effective flywheel strategy, you must go through a few steps:
Determine the core flywheel metrics that your company tracks
Identify your company's successful forces in each stage and power them
Realign detected frictions points between the customers and the employees as well as the connection between internal teams that affect customer experience satisfaction.
We recommend you take a look at this blog post by Hubspot's own Jon Dick, to read even more in-depth regarding why the wheel is taking precedence over the old funnel. Implementing the flywheel mindset will lower churn rates and change the way you handle current and potential consumers.
Need help planning your marketing strategy? Lets talk.