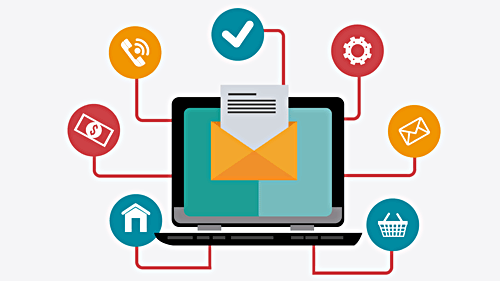 Looking to get more out of your email marketing campaigns? Here are some tips to help you optimize your email marketing strategy so you can continue to improve on the goals that you've set for your campaigns.
Scrub Your Email Lists Often
Make sure to keep your email lists as clean as possible – well-maintained lists not only have higher engagement rates, but old lists with a high bounce rate could negatively impact your email delivery rates. Go through your list often and take out subscribers that haven't opened an email in a while. Instead, engage with subscribers that continuously open and interact with your email campaigns for the best results.
Segment Your Lists by Audience
You know that your business has different audiences that are interested in different types of content, so why not separate your email list by these demographic and behavioral differences. By segmenting your email lists and creating content targeted at the different groups and their particular interests, you can increase interaction. Segmented campaigns perform much better than non-segmented with 14.32% higher open rates and a huge 85.74% higher click rate.
Mobile-Friendly Emails are a Must
Optimizing your email campaigns for mobile is an absolute necessity: 71% of people will delete an email immediately if it doesn't display correctly on their mobile device. A single column responsive design with images and short messages is the optimal design for email. If you're using an email service, make sure that you can test how your messages look on different devices before pressing send.
Double Opt-In for Subscribers
Basically, a double opt-in is when a subscriber needs to confirm their subscription after they sign up before they are actually added to the list. Among the many benefits, double opt-ins tends to deter spam subscribers and bots from signing up for your list. Also, allowing subscribers to select the frequency of emails also helps prevent unsubscribes.
Get Personal with Your Subscribers
Forget the mass email lists – these days, subscribers are looking for customized content that resonates with them. Personalized subject lines and content specialized to the interests and pain points of your various segmented lists will encourage contacts to open emails and engage with content.
Create Compelling Subject Lines
You know what they say about first impressions – they are everything. That's why subject lines are so important. Make sure they are clear and concise, but interesting enough to catch people's attention. Get straight to the point – put your offer right in the subject or get them to open with a line that drives urgency like "Don't Miss the Last Chance!".
Give a Clear Call to Action
Make sure your emails have a defined call to action that is being clearly communicated to your email subscribers. It's unlikely that subscribers will go out of their way to perform an action if you don't make it clear what you want them to do. Whether you want them to visit your website, fill a form, or purchase a product, make a button or graphic that will ask customers to follow through. The easier you make it for subscribers to engage, the more likely they will engage.
A/B Test Your Email Content
Test your subject lines, test the content in your email, test your creative, test the times you send your content, and then once you get results – test it again. Making small changes to your content will help you understand what your audience is looking for and will help you determine what works and what doesn't. Remember when you A/B test to keep your changes small so you can determine what differences improved your results.
Track Your Results
One of the most important steps to improving your email campaigns is to track your results. Track whatever goals you set for your email campaigns like open rates, click-throughs, or conversion, and make sure to put a UTM code in the email to be able to track what people do once they get to your website. Tracking your email campaigns will help you understand how they are performing and what you should change to make improvements.
Want to make improvements to your current email marketing strategy? Contact MassLive Media today to chat about how we can help.