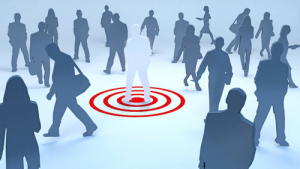 A while back, we explained Audience Targeting – what it is and a few ways it can connect you with the right audience online. In this post, we'll talk a bit about how that magic happens.
Maybe you're asking, why do I need to know that? (We can't read your mind, but we're good guessers.) After all, do you need to know how your car is built to run out for frozen pizza? Maybe not – but it is pretty helpful to know how to fill up the tank.
The better you understand audience targeting – and your audience – the more creative you can be in reaching them. And the better you can evaluate what's working and why.
First-Party Data, Meet Third-Party Data
Audience targeting has two basic parts: first-party data and third-party data.
First-Party Data – any information a company can capture about their customers' interests and behaviors, often by using cookies. That might include:
the web pages they visit most
how long they spent reading a page
content they've shared or commented on
site features they use
ads they've clicked on (or even looked at)
how long they stayed on a site
what mobile device they use
how they interact with your apps
content they download
contact information they've shared
products purchased, and more
It works like this: Great content attracts lots of visitors. More visitors produce more data. More data means more insights you can use to reach readers with your targeted marketing and advertising messages.
Third-Party Data – information licensed or purchased from a reputable outside source – one that doesn't have a relationship with your customers. That could be:
demographic information on a wide range of audiences
data on consumers' behaviors and interests
purchase history from retailers
ready-made audience segments
Notice we said a reputable outside source (like Nielsen or comScore, for example). In other words, companies that have processes in place to validate the accuracy of data.
How They Work Together
Long before first-party data was widely available, direct marketers were using third-party data with some great results. Today, businesses tend to prefer first-party data – it's timely and reliable. But we know now that these two really need each other to perform their best.
Nothing gives you a closer look at how customers interact with you now than fresh first-party data. It's easier to estimate audience size and place your message in front of consumers who are ready for it. (It can also be a convenient way to take an audience for a test drive without gambling your entire investment.)
Yet that view can also be too narrow. For instance:
What are they doing away from your site, and what does that say about them? What if you want to reach new and different audiences?
Enter third-party data. Besides giving you a more nuanced view of customers and their motivations, it helps identify markets you haven't tapped yet. Put these two in a room, and watch the sparks fly.
Now that you've had a peek behind the curtain, how would you reach your perfect customer? Contact us for expert help.