You're scrolling through Facebook at your favorite restaurant in town when you see an ad for the ice cream shop down the street. Do you think it's just a coincidence? Think again. This a marketing tactic called location-based mobile advertising, or hypertargeting.
Today we are reaching a whole new level of wireless penetration where nearly a third of the world's population owns a smartphone, according to Statista. And because nearly 80% social media users are using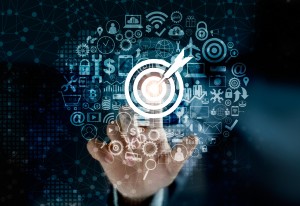 mobile apps (that encourage users to enable location services and geotag posts) to scroll through their feeds, this makes it easier for marketers to know who is doing what, where and when. Let's take a close look at how location-based marketing works, and how it can help you reach the customers you need.
How Does Location-Based Targeting Work?
Location-based mobile advertising reaches people in designated key areas from a geographic location. With latitude and longitude coordinates, advertisers target from mobile apps and browsers when a user has the apps location services turned on. Marketers can use location-based targeting either in real time or historically, meaning they can target people who are currently at a specified location or people who have visited that location in the past. This places ads in front of consumers when they are in the geographic location that makes those ads applicable.
How Do You Use Location-Based Targeting? 
Location-based advertising is most effective when the geographic target range is somewhere between 500 meters and 3 miles. For example, a restaurant might target beach-goers within a 3-mile radius to entice them to eat at their location.
Another common practice for location-based mobile advertising is to target like-minded individuals who attend specific events. Someone at a music festival in Boston is also likely be interested in attending a concert at Gillette Stadium. Knowing this, Gillette has the ability to target every mobile device that was pinged at that Boston music festival. This way ad impressions are only spent on the people most likely to purchase a concert ticket.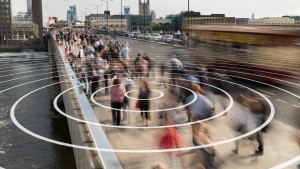 This strategy is also useful to conquest local competition. Car dealers can target prospective customers who are visiting their nearby competitors with a special offer or discount.  This persuades them to visit their own car lot. What's more is that advertisers can also designate geographic areas not to target. Do you think that the downtown area already knows enough about your event, but the next town over doesn't? Set your geo-targets to skip the locations you don't want to use ad impressions on. This allows you to use your advertising spend more efficiently.
Location-based mobile advertising is all about knowing where your target audience is geographically while crafting and delivering a relevant message to them at the right time. Leveraging such technology can boost your location's exposure level and ultimately add your bottom line significantly.
Want to talk with a digital expert to put together a location-based marketing campaign? Contact the staff at MassLive Media to start targeting your audience today.