The Journey to Traditional College Enrollment is a process that begins as early as a student's eighth grade year. Many students and parents start researching post-secondary education options by the time they enter high school and that's when colleges, universities and vocational schools need to start marketing to capture their attention.
Schools who actively court students and parents at an early stage have more success converting inquirers into enrolled students. The level of urgency should increase as students progress.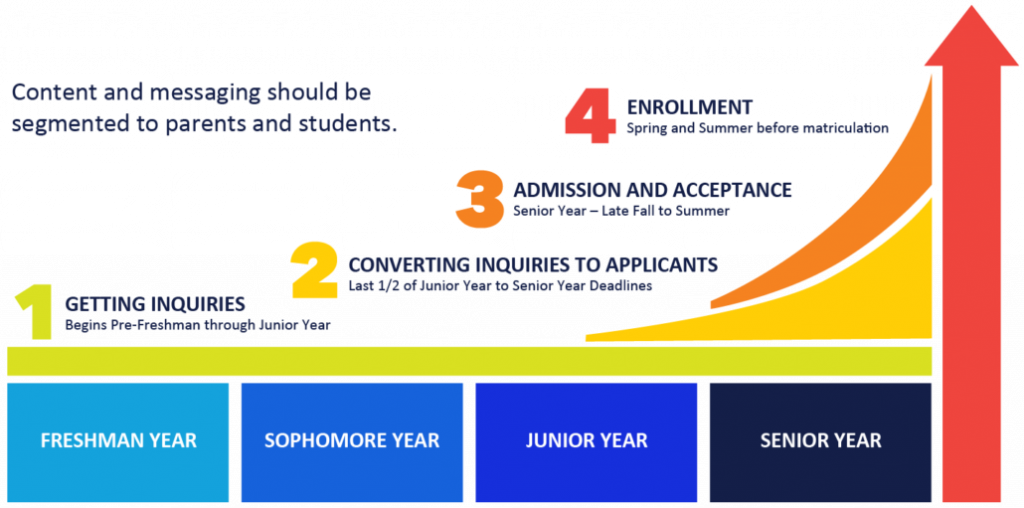 Stage 1: Capture Inquiries
This stage typically occurs pre-freshman through junior year.
This is when students are in the beginning states of research for college. Inquiries can come in through a college's website, response to direct mail, phone, email etc.
Tactics to use: social media, sponsorships, SEM and digital display to increase awareness
Stage 2: Converting Inquiries to Applicants
Typically occurs last half of junior year to senior year deadlines.
Once inquiries are captured and sifted through, they need to be converted to prospective applicants. The big call to action in this stage should be urging prospective students to apply.
Tactics to use: social media, SEM, email, content marketing
Stage 3: Admission and Acceptance
Typically occurs senior year (late fall to summer)
Students enter this stage once they are admitted and later accept the college's offer to attend. A key metric to look at during this stage is comparing the number of students who applied vs the number who accepted.
Tactics to use: email, content marketing
Stage 4: Enrollment
Typically occurs spring and summer before matriculation
Colleges rejoice once prospective students enter the last stage of the recruiting process; when they actually enroll and become official students.
Tactics to use: social media, email
Armed with this information, education marketers can effectively target and use the right messaging for each student corresponding to which stage of the journey they're in. MassLive Media is an expert in social and digital marketing and data analysis, and we successfully worked with higher education institutions to achieve their goals.
Want to learn more about enrollment marketing? Let's talk.