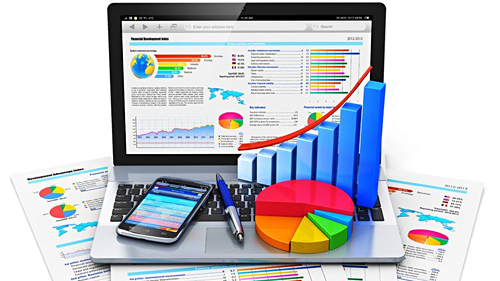 Google Analytics is a free and powerfully insightful tool into your digital marketing and website effectiveness.
Have you ever wondered who visits your site? What content do those users consume? How they find your website (it's more complex than you think)? And whether they even stay or come back to your website?
Google Analytics can help answer these questions and more.
According to the Pew Research Center, about 84% of the U.S. adult population will use the Internet in 2015. Find out more here about Internet adoption in the last 15 years: American Internet Access 2000-2015.
People are turning to the Internet for information, to find business locations, their phone numbers, and to buy products online. Websites – businesses – are competing in an ever changing, competitive environment (in essentially an immaterial, expansive space). Google Analytics allows you as a business owner to be able to compete in this environment.
Google Analytics makes it easy to begin collecting data to be able to later gain valuable insight into your business and website.
How To Set up GA
Data on your website only begins to collect from the time the tracking code is placed, so do this today if you haven't already. Here is a link to Analytics Help where Google explains how to implement the code: Set up the web tracking code. Use an existing Gmail or other email account, or create a specific one for your team to use.
You can either directly place the code or use Google Tag Manager.
I recommend using Google Tag Manager if at all possible because as your marketing channels are expanded, it will be easy going forward to manage tags as well as choreograph several tags in one place to better measure and engage with your audience.
One thing to note: if not using Google Tag Manager, add the code to every page of your website.
Once you have accessed your account and see that data is being collected (Checking your site Real-Time), GA will create one original reporting view. Don't add filters to this view so you can have all of your raw data in one place. Consider adding additional views you can add filters to, and one view you can test data within.
To make sure your data is as accurate as possible, consider adding filters. If you or your team utilizes the site often, consider implementing a filter that removes your internal traffic from your reports: Creating filters in your GA.
Where to Begin
Google Analytics has four major groups of reports: Audience, Acquisition, Behavior, and Conversions. Audience reports provide insights into who your visitors are, Acquisition reports show you where your visitors come from (or in other words, how they found your website); Behavior reports show you what your visitors do on your site. Conversion reports allow you to measure goals and look at attribution models. You can even create custom reports.
One of the most common questions we receive from advertisers is where are people located?
Under the Audience reports, click on 'Geo', and then 'Location.' Filter the date range in the top right corner. Right below the map and above the reporting chart, you will find a primary dimension designation: 'country,' 'city,' and more. Many of our local SMB advertisers want to see what cities people are visiting from and this is where this information can be found.
The Audience 'overview' report is one of the first reports I visit once gaining access to an advertiser's analytics because I want to get an overall sense of traffic and performance on their website. Hover over each dimension to find out what each one measures. I look at sessions, page depth, and bounce rate which shows me overall interest of the visitors in the website.
Another great report to look at is the 'Channels' report under Acquisition. The report breaks out traffic into the major channels (or ways in which visitors come through to the site): organic is through a search engine, direct is either by typing the website URL into the browser or using a bookmark, referral is traffic to your site from a user coming from another site, social is social media traffic, and more. If you were running paid campaigns, you would see paid search as well.
Under the Behavior reports, using the report 'All Pages' under 'Site content' can show you what pages visitors are visiting most often. Use the 'Behavior Flow' report to look at what pages visitors come through and what pages they visit there after.
Giving Access
By allowing access to your analytics, your digital campaigns can become even more effective. This is because reporting can be provided on what is actually happening on your website once visitors find you.
Under the Admin tab in your Google Analytics, you can add a user and specify the level of access. 'Read and Analyze' is all most digital consultants and strategists need to see your data (this doesn't allow this user to make any changes). Here's how to distinguish between the levels of access and grant access to others: User management.
Google Analytics has much more to offer than covered here. Contact a digital consultant today to gain new insight in your website and digital marketing effectiveness.
SEO keywords: Google Analytics, Google Analytics set up, basic Google Analytics reports
By MassLive Marketing Staff